---
Smart Roadster Luggage Rack Alternative
The innovative boot-bag also fits the Smart Roadster and has been manufactured by our sister company since 2006 with thousands sold worldwide. To our knowledge a boot-bag has never damaged a cars boot lid. If you buy a car luggage rack you still need to purchase a waterproof luggage bag. Boot-bag does both jobs for half the cost of a rack alone.
The straps simply loop around your Smart's boot lid negating the need for a rack.
Benefits of this luggage rack system for Smart
Fully Waterproof
Attaches using soft webbing so no damage to paint
Sits on a soft non slip mat
14 day no quibble money back guarantee.
Folds flat for easy storage, can be removed in minutes and stored inside if you stop.
Saves Money ; half the price of a rack and waterproof holdall/suitcase
There are two sizes in the boot-bag range :
b
oot-bag original
- £98.95 ( shown here on the Blue Smart ) - 50 Litres of additional luggage capacity
measures 70x36x20cm ( 28"x15"X8") giving 50 litres (1.75 cubic feet) of additional storage. The soft non slip mat the bag sits on is slightly bigger measuring 80x40cm.
boot-bag vacation
- £118.95 ( on the gold Smart ) 75 Litres of additional luggage capacity,
50% larger than the boot-bag original measuring 90x40x20cm.
(36"x16"x8")
The soft mat measures 90x45cm
.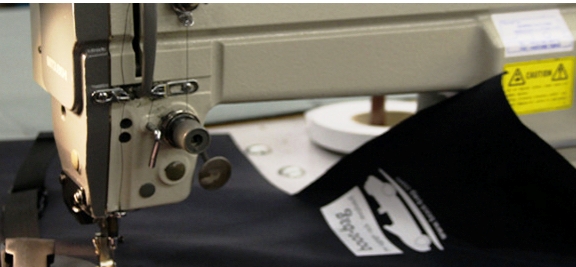 All boot-bags are hand made by us in Buckinghamshire UK, our idea, our design, our patent, our manufacture. No one else makes boot-bags.
Boot-bag sits on an anti slip matting this protects your Smart's paintwork the mat is 4mm thick, its 'squashy' and is 'anti slip' so it stays in place.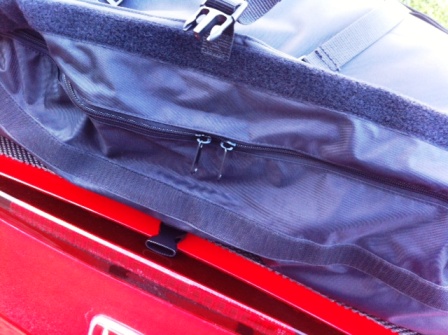 Boot-bag has a large flap held in place with Velcro that sits over the zip to ensure no water gets through the tiny holes in the zip. The zip has two buckles and can be padlocked for security.
All fixings are attached to two circles on the top of the bag, these are sown on then high frequency welded so no water can enter the bag, its fully waterproof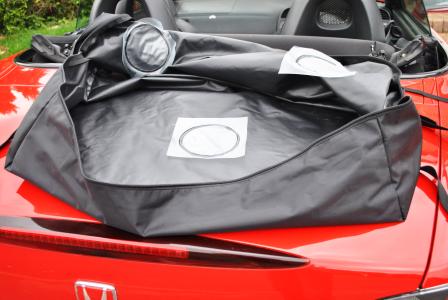 The bag is one compartment inside with a zip on three sides, the clear plastic that's welded over the stitches can clearly be seen.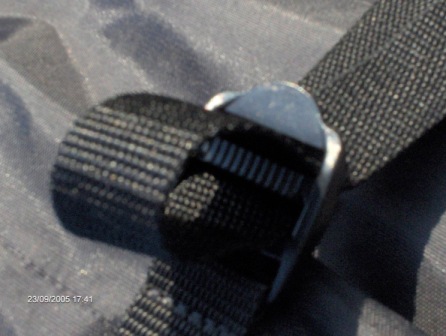 The straps attach to the boot-bag using ladder lock fittings, these are found on rucksacks, bags etc. The harder the straps are pulled the tighter the joint becomes, as long as the straps are tight, the boot-bag is not going to move. The straps can each hold 500kg.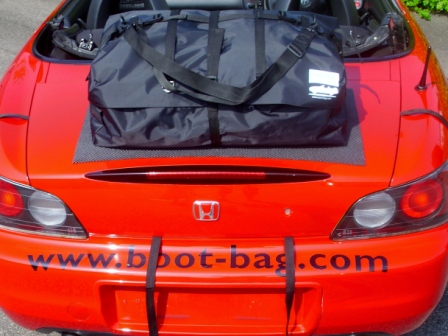 Boot-bag has a detachable shoulder strap, so you can arrive at your destination attach and carry the bag off like a normal holdall.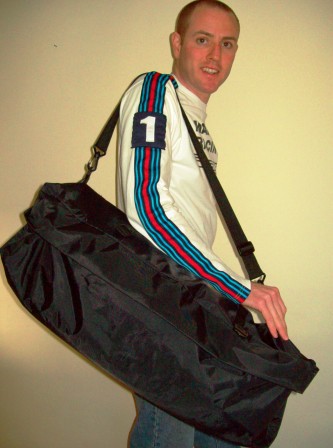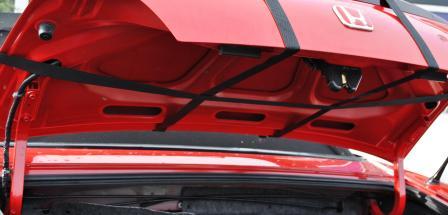 boot-bag has no clips or hooks and simply attaches using webbing, no paint chips here ! The webbing won't move neither will the mat so there is no risk of any damage to your Smart's paintwork
---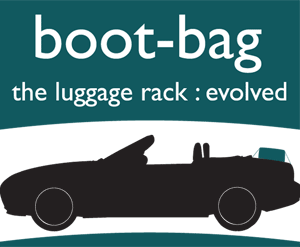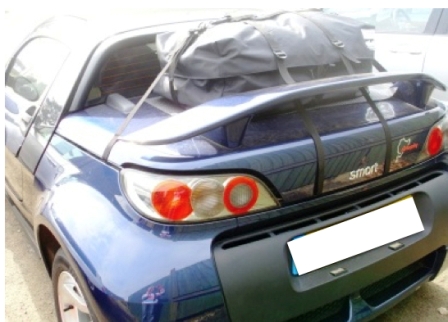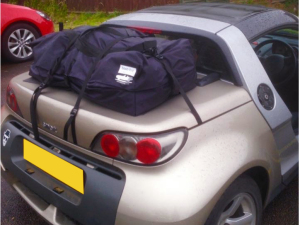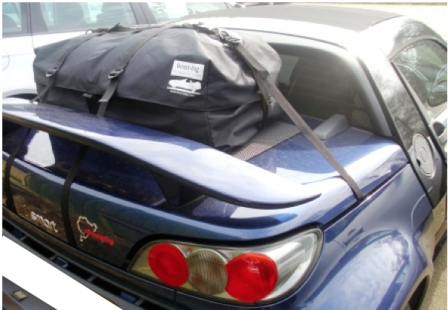 How Boot-bag works
Customer Feedback on boot-bag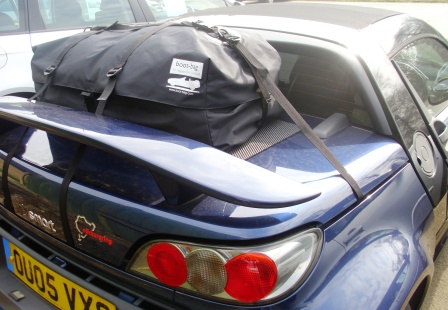 hi I just wanted to say how happy we are with our purchase ! We drove 3500km for a great holiday which was only possible because of our boot-bag ! I contemplated replacing my car until I found your website! We drove through all weather in our Smart Roadster from sunshine to snow and the contents were nice and dry. The bag is securely fastened at speeds and is quickly positioned and removed ! Daniel Gatt 10.3.13
We have just returned from 2000 miles of roof down driving in France and would like to thank you for an excellent product. The bag fitted in minutes and never moved, what a great design and so easy to remove at the end of the day. To raise the roof on our MX5 Roadster Coupe all we had to do was slacken two of the straps, move the full bag 2 inches backwards and then operate the roof, very easy. Many thanks John B 5.7.11
My name is Fred Taggerty, I recently purchased one of your boot bag vacations. I have travelled from Scotland to Turkey with it. It has done a fantastic job, been through rain and snow no problems at all, everything was clean and dry. Easy to remove and put back on at all the stops, just like a big holdall...great invention, my girlfriend would not have managed half her stuff (hairdryers, shoes, bags etc...) without it... feel free to use this email in your testimonials... All the best for the future. 30.4.13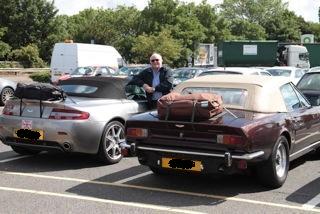 Thanks for sending the boot-bag so promptly Liza. We were really impressed with it Ė it survived a torrential downpour on our trip down to Le Mans, and it suited the car quite well (see photo)! Canít believe I didnít think of this idea years ago when I was driving around in an MG Midget! Chris 17.6.11